In today's digital age, SEO has become an essential aspect of digital marketing. A well-executed SEO strategy can help increase your website's visibility in search engine results pages (SERP. This leads to more organic traffic, leads, and revenue. However, search engines are continuously evolving. It's crucial to keep up with the latest SEO trends and avoid outdated ones.
In this blog, we'll cover the best SEO techniques of 2023 and what to avoid to help you revolutionize your SEO strategy.
➡ Master These SEO Trends to Drive Organic Traffic to Your Website
Topic cluster content strategy involves creating a cluster of web pages centered around a core topic. By doing so, search engines can easily understand the context of your content and its relevance to a search query.
For example, if you run a digital marketing agency, you might create a core topic around "digital marketing," with subtopics like "social media marketing," "content marketing," and "SEO."
Voice-activated assistants like Siri and Alexa have become increasingly popular. It is now essential to optimize your website for voice search. One way to do this is by using conversational keywords and long-tail phrases that mimic how people speak.
Consider changing your focus from "Best SEO techniques" to "What are the best SEO techniques."
Google will index and rank your website using its mobile version first known as mobile-first indexing. This is important because more people are now accessing the internet via mobile devices than desktops.
Make sure your website is responsive on mobile devices and loads quickly in order to optimize it for users.
Expertise, Authoritativeness, and Trustworthiness (E-A-T). These are three factors that Google considers when ranking websites. To boost your E-A-T, ensure your website contains high-quality, accurate, and up-to-date content. Make sure you have an about us page and certifications to establish your authority in your niche.
If you run a local business, optimizing your website for local search results can help you attract more customers. One way to do this is by using local keywords and creating a Google My Business listing. This will make it easier for others to find you in the local search results.
Now that you know what to do to improve your website ranking. Let's take a look at what not to do as well!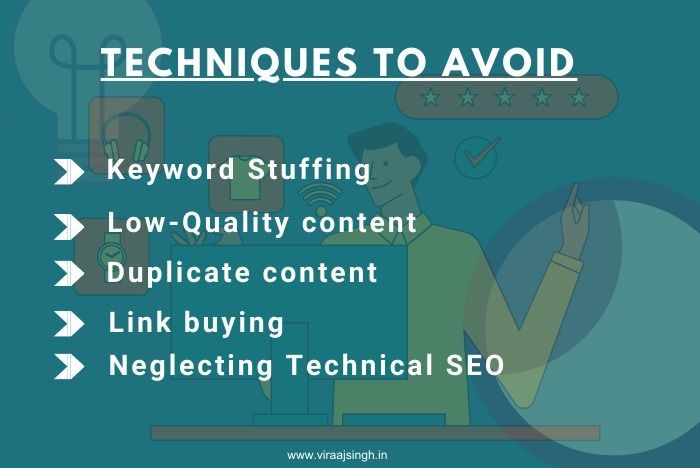 ➡ Techniques to Avoid to Get the Best Results.
The act of cramming your material with keywords to influence search engine results is referred to as keyword stuffing. This has been a widely used technique across the web for a long time.
However, this technique is no longer effective and can even lead to a penalty from search engines.
Instead, focus on creating high-quality content that contains natural-sounding keywords.
Low-quality content, such as thin or duplicate content, can harm your website's search engine rankings. Make sure you are creating high-quality, in-depth content that provides value to your audience.
Any content that appears on several web pages is considered duplicate content. This can harm your SEO by perplexing search engines. To avoid duplicate content, create unique content for each web page and use canonical tags to indicate the original source of the content.
Buying links to your website can harm your SEO and lead to a penalty from search engines. Focusing on producing high-quality material that organically draws backlinks is ideal.
Technical SEO refers to the technical aspects of your website that affect its search engine visibility. This includes website speed, security, and crawlability.
Neglecting your website's technical SEO can harm your rankings. So, it's essential to prioritize technical SEO for the best results.
To sum up, improving your SEO strategy is critical to the success of your online business. Keeping up with the latest techniques is an essential step for staying ahead of the competition. By using a topic cluster content strategy, optimizing for voice search, prioritizing mobile-first indexing, E-A-T, and local SEO. You can boost your organic traffic and increase search engine rankings.
On the other hand, avoiding keyword stuffing, low-quality content, duplicate content, link buying, and neglecting technical SEO will help you avoid penalties from search engines. Protecting your website's reputation.
Remember to regularly update your SEO strategy and stay on top of the latest trends. Implementing the tips we've discussed in this blog post can make a significant difference in your website's visibility. Increasing conversions and revenue.
Hope you found this post helpful. Stay tuned at www.viraajsingh.in for more digital marketing information and strategies to improve your digital presence.