Since its launch, digital marketing has advanced significantly in the last decade. Basic tactics such as SEO, SEM, social media marketing, email marketing, and content marketing are no longer enough to stand out in the digital landscape. In this blog post, we will explore some basic to advanced tactics of digital marketing strategies that will help you with optimizing content and increase brand engagement. We'll also provide a step-by-step guide on how to implement these tactics.
Understanding the Basics to advance your digital marketing strategy
Before we dive into the advanced tactics of optimizing content. It is essential to learn the fundamentals of digital marketing.
Here are quick bullet points to help you retain information better:
SEO includes optimizing your website to improve its position in search engine results.
SEM refers to paid search advertising. Businesses pay to have their ads displayed at the top of search engine result pages for increased brand engagement.
Social media marketing incorporates promoting your business and engaging with your target audience through social media platforms.
Email marketing includes emailing users promotional messages this can be offers, new products or services and seasonal discounts.
Content marketing involves creating and sharing valuable content to attract new customers and retain old ones.
Now that you've understood what is digital marketing. Let's take a look at a few ways for optimizing your digital marketing strategy.
Importance of building a Digital Marketing strategy
The digital landscape is constantly evolving. To remain ahead of the competition, businesses need to keep up with the newest trends and technologies. By adapting and improving their digital marketing strategies they can reach and engage with their target audience effectively.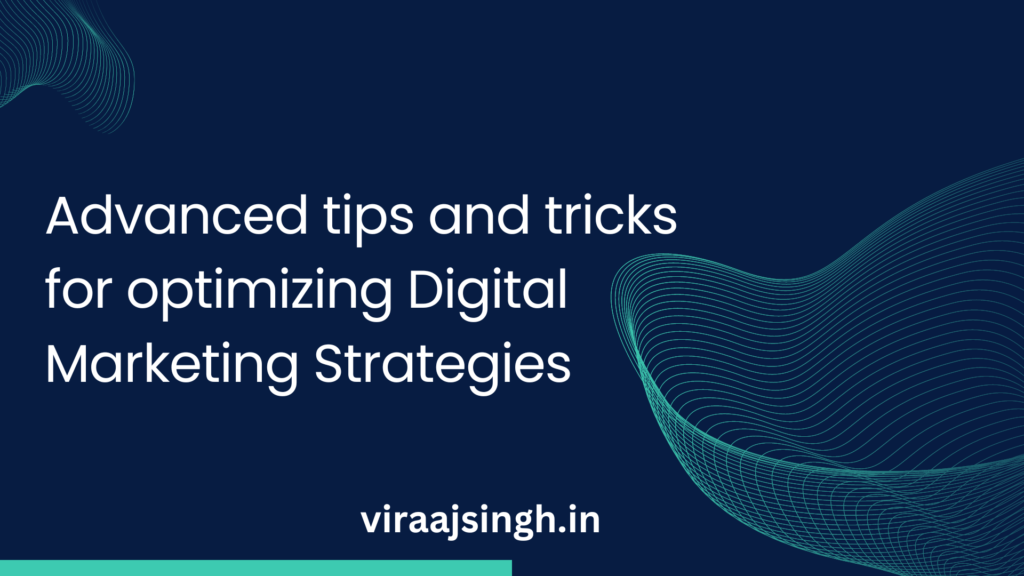 Advanced tips and tricks for optimizing Digital Marketing Strategies
1. Personalisation
Personalisation involves tailoring your marketing efforts to individual customers. It's based on their preferences, behaviours, and past interactions with your brand. Personalisation can include personalised emails, personalised content recommendations, and personalised product recommendations. This can help businesses increase customer loyalty, drive conversions and increase brand engagement.
2. Influencer Marketing
Partnering with influencers to advertise your business or products is known as influencer marketing. Influencers are usually individuals who have a large following on social media platforms. They can influence the purchasing decisions of their followers, optimizing your marketing efforts.
3. Voice Search Optimisation
Voice search optimisation involves optimising your website and content for voice search queries. With the increased popularity of voice assistants such as Alexa, Echo, Siri, etc. Businesses need to ensure that they are optimizing their content for voice search queries.
Voice search optimization can help businesses reach new audiences and improve search engine rankings.
4. Artificial Intelligence
Artificial intelligence (AI) involves using machine learning algorithms to analyze data and make predictions. AI can be used to personalise content, optimize ads, and automate customer service.
AI can help businesses save time and improve the customer experience.
5. Chatbots and Customer Service Automation
Chatbots and customer service automation involve using chatbots and other automated tools to handle customer inquiries and support.
Chatbots can help businesses save time and provide 24/7 support to their customers. It can also improve the customer experience by providing personalized responses and recommendations.
6. Augmented and Virtual Reality
Augmented and Virtual Reality (AR/VR) involves using technology to create immersive experiences for customers. AR/VR can be used in product demos, virtual showrooms, and interactive ads.
AR/VR can help increase brand engagement by providing new and exciting ways for customer interaction.
These are a few tactics, from Basic to advanced for digital marketing strategy. Now let's look at how to implement them effectively.
Implementing Advanced Tactics for optimizing Digital Marketing Strategy
To implement advanced tactics in digital marketing, businesses should follow these steps:
Start by setting specific and measurable goals and objectives for your digital marketing efforts. Goals could include increasing website traffic, improving brand engagement, or driving sales.
2. Define Target Audience
Based on variables like demographics, hobbies, and habits, identify your target audience. This will help you create personalised content and target your marketing efforts efficaciously.
Develop a marketing strategy that includes the tactics you want to implement. This strategy should incorporate an executable timeline, a budget, and a method for measuring and analyzing results.
4. Measure and Analyze Results
Regularly measure and analyze the results of your digital marketing campaigns. This can include tracking website traffic, engagement rates, and conversion rates. You can use this data to make informed decisions about your digital marketing strategy and adjust these tactics as needed.
If you want to remain ahead of the competition, developing an effective digital marketing strategy is crucial to achieve your marketing goals.
By adopting
Personalized marketing,
Influencer marketing,
Voice search optimization,
Artificial intelligence, and more.
You can reach your target audience more effectively and engage with them on a deeper level.
To implement these tactics successfully.
Set specific goals and objectives,
Define your target audience,
Develop a marketing strategy, and
Measure and analyze results regularly.
Follow www.viraajsingh.in and stay connected for more digital marketing updates.